SMASH Parkinson's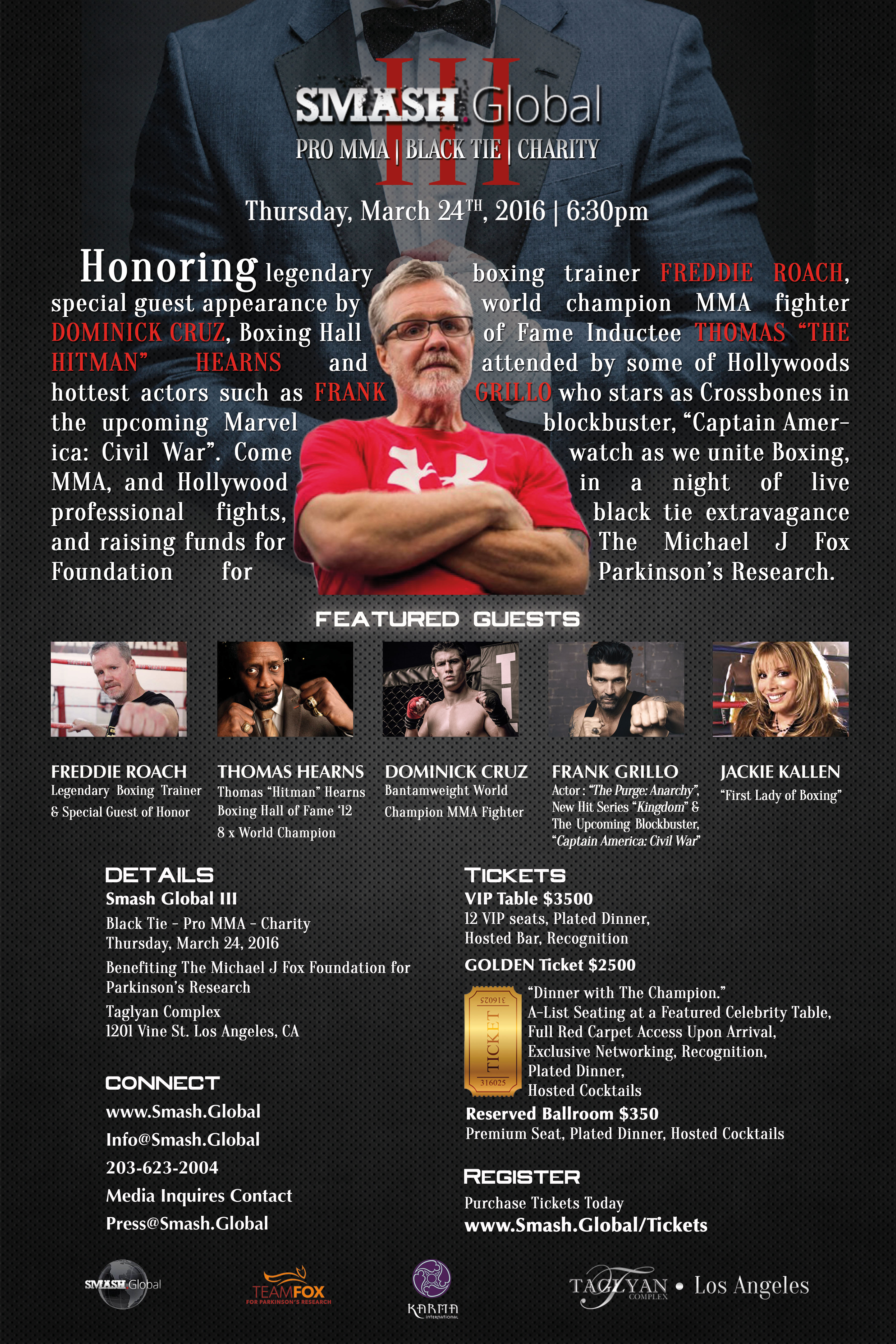 Combat sports worlds join forces March 24 at Los Angeles' Taglyan Complex for Smash Global III, the third black-tie mixed martial arts (MMA) event held by luxury entertainment brand Smash Global.
Featuring six professional MMA bouts sanctioned by the California State Athletic Commission, a formal plated dinner, hosted cocktails, and in-cage access for all attendees, the event – which is limited to 300 seats – will honor legendary Los-Angeles-based boxing trainer Freddie Roach and live auction a customized, one-of-a-kind "Back to the Future" edition Harley-Davidson, with proceeds benefiting the Michael J. Fox Foundation for Parkinson's Research.
"Smash Global's goal from the beginning has been to elevate the sport of MMA, to bring a new level of class and sophistication to the sport," said Smash Global Founder and CEO Steve Orosco, a former professional mixed martial artist boasting a 7-1 record and a seasoned businessman holding an MBA, an MS, and experience on Wall Street. "This luxurious environment already exists in boxing, and with Smash Global III, we're seeking to further bridge that gap and bring the best elements of both together for one night of combat sports excellence."
Among the attendees at the event will be Freddie Roach, who has trained boxing great Manny Pacquiao and retired MMA superstar Georges St-Pierre – among others – throughout his illustrious career. Roach, owner of Los Angeles' famed Wild Card Gym, maintains an active presence with his fighters, currently training Pacquiao for an April 9 showdown against Timothy Bradley, Jr., in Las Vegas. Many of Roach's fighters, supporters, and celebrity fans are expected to be at Hollywood's Taglyan Complex to show their support.
Roach also suffers from Parkinson's Disease, with which he was officially diagnosed after retiring from his career as a professional boxer in 1986. For him, Smash Global III offers the opportunity to support the combat sports worlds of boxing and MMA while also giving back to a cause that is close to him personally through the Michael J. Fox Foundation for Parkinson's Research.
"People shouldn't compare MMA and Boxing," Roach said. "They are two completely different sports, but there is no reason the two communities can't be one and co-exist. It's an honor to be able to support both Parkinson's research and combat sports through Smash Global III."
Joining Smash Global ahead of the event to help bring the two sports together is Vice President of Business Development Jackie Kallen, who possesses over 38 years of experience as a boxing publicist and manager of fighters such as Thomas "Hitman" Hearns and James "Lights Out' Toney. Dubbed the "First Lady of Boxing" for her influence and scope of work, Kallen was awarded the prestigious Aileen Eaton Award from the World Boxing Hall of Fame. Her life story also inspired the Paramount Pictures film Against the Ropes, starring Meg Ryan.
"It is a pleasure to work with Steve Orosco and Smash Global to produce events that are both entertaining, unique, and philanthropic," Kallen said. "The worlds of boxing and MMA are coming together flawlessly, and the fans of both are merging together happily."
The event will also live auction a one-of-a-kind "Back to the Future" edition Harley-Davidson customized by Biggs Harley-Davidson – San Marcos, painted by Ricki Hickenbottom of Escondido's 2lefthands kustompaint. The proceeds from the auction will benefit the Michael J. Fox Foundation for Parkinson's Research, the largest nonprofit funder of Parkinson's research worldwide, which was founded by actor Michael J. Fox ("Back to the Future," "Teen Wolf") in 2000.
"From day one, I knew Smash Global needed to be about something more than just fighting or just networking," Orosco said. "Every Smash Global event features an element of charity, and it's something we take great pride in. It's our way of giving back to a greater cause, shining a light on some of the bigger issues in our community and abroad."